The celebrations of Catholic200SG culminated in a concurrent Eucharistic Celebration that was synchronised with perfect timing over 32 parishes, where Archbishop celebrated from the Cathedral of Good Shepherd and Father Terence celebrated from our parish, the Church of St Michael.
It is significant that the Church in Singapore has come together to celebrate 200 years of the Catholic faith in Singapore. As one Church we have come together to deepen, discern, witness and celebrate our faith.  As Archbishop William's homily was simulcast across all 32 parishes, he reminded us that the theme for Catholic200SG is to Ignite and shine with Faith. However, in order to do that, we must be ignited before we can shine. In the same light, shining for others cannot be done through caution but through attraction.
It is with good news that we attract.
We were reminded that in this season of Advent when we anticipate Christ's coming at Christmas, we already have a foretaste of joy with us.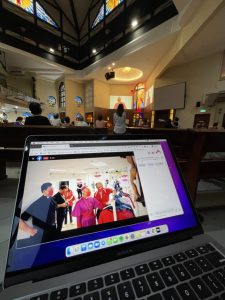 We are in the midst of a pandemic, and are moving towards endemic status. Through all of these troubles, we are experiencing many issues – family life is under threat and the world in trouble. Yet in spite of these challenges, we are called to rejoice. Just like Zephaniah in the first reading when the daughter of Zion shouts for joy. He will renew you by his love. Our Lord is very near.
So how do we know the Lord is present in our midst even as we go through challenges? His Grace, highlights that the answer is found it is our right disposition to be open to the prompting of the Holy Spirit, to be docile to His Will, and to turn to the Lord in everything.
Like St Paul who turns to the Lord, converses in prayer and thanksgiving. We could either safely give our hearts and thoughts to Jesus for He guards us, or we could be drowned by our sorrow and what's happening around us
As we open our eyes to see how God has worked through us and in us, we will see how he had sent so many missionaries into our country and these missionaries brought their faith to us over the last 200 years – building up church, strengthening our faith, through medicine, education and social mission.
We thank God our Father for our country and leaders.
We still have so much more to do. And the same time, we are called to share with those who have none.
His Grace exclaims, that we must build an inclusive society, where wealth of the whole world belongs to everyone – and to take  care of those in the low wage population.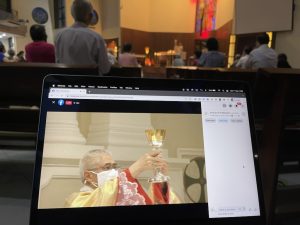 In building our faith, we are invited to renew our faith. And we will not be able to continue  spreading joy, unless we are formed in our faith, unless there's love of Jesus.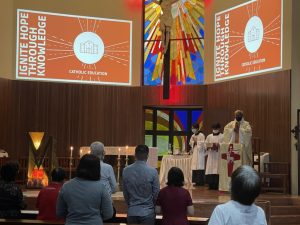 Now that we have renewed of our faith, let us go out there go out and shine!
Written by: Julianne Danielle Lim