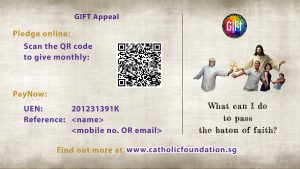 GIFT Contributions
This weekend is the collection for the GIFT (Giving in Faith and Thankfulness) programme to build a more vibrant, evangelising and missionary Church. Sign up for a monthly pledge, the most sustainable source of funding for the archdiocese, to support its organisations and projects. Or give regularly via PayNow to 201231391K (include name and mobile no. or email).
More info at catholicfoundation.sg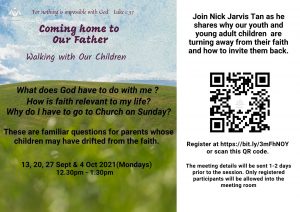 CPS LUNCHTIME TALK VIA ZOOM
'Coming Home to Our Father'.
Speaker: Nick Jarvis Tan
Dates: Mondays, 13, 20, 27 Sept & 4 Oct 2021
Time: 12.30pm – 1.30pm
Registration is required. 
Register by scanning the QR code or use this link https://bit.ly/3mFhNOY
Welcoming Home Returning Catholics
14 Sept – 16 Nov 2021
Tuesdays
8pm to 9.30pm
Landings Singapore presents a new 10 week programme which runs from 14th September 2021 through 16th November 2021, every Tuesday from 8pm to 9.30pm. A weekend of virtual retreat takes place near the end of this programme on the 6th and 7th November 2021. All sessions will be held over Zoom. We invite Catholics seeking a reconnection with the faith to register at this link: https://bit.ly/3gFDObF or to scan the QR code in the e-poster.
What to expect
Check-in time and opening prayer
Faith story-telling
Response to story
Fellowship
Reflection on Catholic themes (the themes centre around our relationship with God as well as the Sacraments)
Closing Prayer
For more information on Landings, please email singapore@landings.org.sg or visit www.landings.org.sg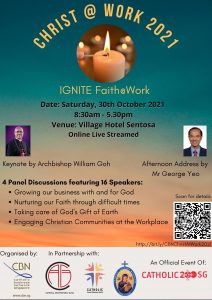 Christ @ Work 2021
Saturday 30th October 2021
8.30am – 5.30pm
Village Hotel Sentosa
Online Live Streamed
The biennial Christ@Work Conference returns with the theme IGNITE Faith@Work, in line with the spirit of the Catholic200SG celebrations. Archbishop William Goh is the Keynote Speaker and ex-Cabinet Minister George Yeo will do the Afternoon Address. There will be 4 Panel Discussions featuring 16 Speakers.
Watch Our Programme Video Here! : https://youtu.be/sLNk2Z_UsXQ
Scan the QR Code or Click the Link below for Programme Brochure: https://bit.ly/CBNChristAtWork2021
Click the link below to Register: https://bit.ly/CBNChristAtWork2021Reg
"Families are not a problem; they are first and foremost an opportunity." Amoris Laetitia by Pope Francis
The Family Conference "Family Life: The Joy of Love" on 5 and 6 November 2021, is organized by Catholic Family Life with a mission to form, empower and restore individuals, couples and families to flourish in the intimate love of God. The fully virtual conference is made up of 3 parts where professionals, teachers, social workers, any volunteers who work alongside families, as well as parents, will find resources that will support them in their journey to help form, empower and restore families.
Part 1 5 Nov 1.30 pm – 6.30 pm Working with Families (for Professionals who work with families)
Part 2 6 Nov 9.00 am – 12.00 pm Anchoring on our Faith (for Parents and families)
Part 3 6 Nov 2.00 pm – 6.00 pm Building Flourishing Families (for Singles, Couples, Parents and families)
Please find out more about the conference and register via https://www.familylife.sg/General_Registration
Every 3rd weekend of the month, parishes have a collection for the Giving in Faith and Thankfulness (GIFT) programme for the operational and infrastructural needs of the Church.
To effectively resource these needs, sign up for a monthly GIFT pledge, the most reliable source of funding for the archdiocese.
You can also give regularly via PayNow to 201231391K. Please include your name and mobile number or email address to receive an acknowledgement.
For more information, visit catholicfoundation.sg
TAKEAWAY MENU
Crossings Cafe
http://crossingscafe.com.sg

Crossings Cafe is pleased to extend our special takeaway/delivery menu from now till 18 August 2021.  Stay home, stay safe!
To order, WhatsApp 8292 7972, call 6338 2669
or e-mail: manager@crossingscafe.com.sg 
For delivery, please order one day in advance.  Delivery charge is $8 per location (minimum order of $60 per location); free delivery for orders $150 and above.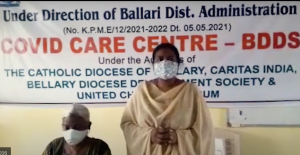 CHARIS' India Covid-19 Response
Dear brothers and sisters in Christ,
During the recent appeal for CHARIS' India Covid-19 Response, we have been able to raise much more than what we have expected through your collective efforts and we hope to have been able to spread your love and prayers through the actions of our partners.
Many have benefited from the facilities and equipment since the campaign has closed, and their lives, along with many more, were touched by your compassion.
For more updates on how the funds have impacted the community, visit: https://makehopehappen.charis-singapore.org/index.php/2021/india-covid-19-response#pb-content-638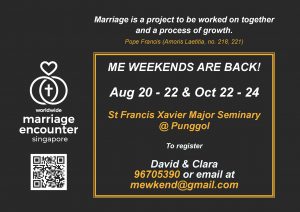 "Make your marriage a priority!"
Good marriages can always be made better!
22 – 24 October
Marriage is a project to be worked on together and a process of growth. Pope Francis (Amoris Laetitia, no. 218, 221).
Good marriages can always be made better!  To deepen your couple relationship, do sign up for a Marriage Encounter Weekend scheduled for Oct 22-24 by contacting David & Clara @ 96705390 or email at mewkend@gmail.com"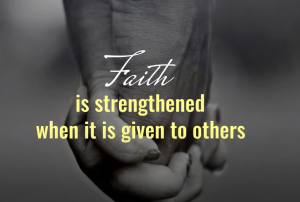 Faith is strengthened when it is given to others
– Redemptoris Missio (Mission of the Redeemer) – Encyclical by St Pope John Paul II
You are invited to further the good news of the Lord in 2021.
How can I share the faith that I received?
WATCH THE VIDEO:
Para-Counselling Service
By Catholic Family Life
Need someone to journey with you through the stages and challenges of life? Trained Para-Counsellors are available via Zoom.
Please call 66318963 (Mon – Fri 12pm to 4pm)
Email paracounselling-info@familylife.sg or
Visit https://cpc.familylife.sg/ to book your session.
PRAYCATION – Montfortian Experience 2021
Renew your faith this year as we celebrate Catholic 200SG by spending a praycation with us at Montfort Centre.
We have now included the blended approach for those who just can't seem to find time to spend a whole weekend retreat with us at Montfort Centre especially in this pandemic.
Fret not, we hear you and we are here with you.
Contact Lydia at 67695711 for more information!
CBN Career Counselling
Dear Friends of CBN,
Our Career Counselling Service  is now available on Zoom Meeting.
In these current times, this can be a valuable service for you, as you can have discussions with a trained Counsellor on Career exploration, Career planning, Career transitions, Workplace challenges, Job Search strategies etc.
God Bless.
Click Here to Register.