GIFT Contributions
This weekend is the collection for the GIFT (Giving in Faith and Thankfulness).
Scan the QR code or visit https://youtu.be/EhySg–k9vI for the video to learn how your contributions fund archdiocesan organisations, projects and initiatives that help to build a more vibrant, evangelising and missionary Church.
Please give regularly via PayNow to 201231391K (include name and mobile no. or email) and consider signing up for a pledge at catholicfoundation.sg/give
Video web link: https://www.youtube.com/watch?v=EhySg–k9vI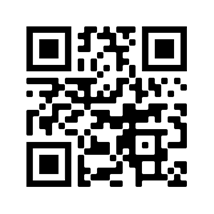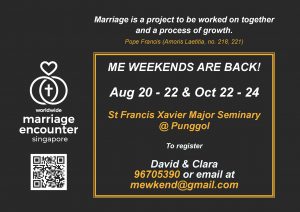 "Make your marriage a priority!"
Good marriages can always be made better!
22 – 24 October
Marriage is a project to be worked on together and a process of growth. Pope Francis (Amoris Laetitia, no. 218, 221).
Good marriages can always be made better!  To deepen your couple relationship, do sign up for a Marriage Encounter Weekend scheduled for Oct 22-24 by contacting David & Clara @ 96705390 or email at mewkend@gmail.com"

Appeal for CHARIS' Humanitarian Month
Caritas Humanitarian Aid & Relief Initiatives, Singapore (CHARIS), is making its annual appeal for their Humanitarian Aid Fund that supports the Archdiocese's overseas humanitarian aid and disaster relief efforts. By sharing our blessings, we can unite as the helping hand of the Church, allowing faith and love to be multiplied.
Donation envelopes are available in the parish. Alternatively, you can send a crossed cheque payable to "Humanitarian Aid Fund" with your name and contact information to: CHARIS, #07-02 Catholic Centre, 55 Waterloo Street, Singapore 187954. Please contact CHARIS at 6337-4119 or scan the QR code to visit their website for further information.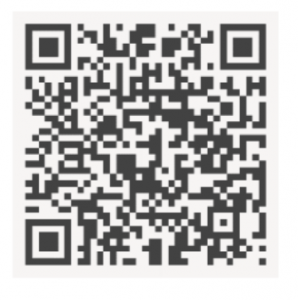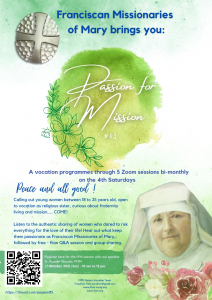 The Franciscans Missionary of Mary (FMM) Sisters
23 Oct 2021, Saturday
10am – 12noon 
The Franciscans Missionary of Mary (FMM) Sisters are holding a religious vocation session on 23 Oct 2021 (Sat), the last of the "Passion for Mission" series.  The session includes a sharing by Sr. Rosalie Ilboudo on her vocation story, and small groups sharing amongst participants.
Sr. Rosalie from Burkina Faso has been missioned to many different countries, including Muslim-majority states like Niger and Senegal, to where she is currently at in Australia.  Regardless of where she is, and what she does, Sr. Rosalie's personal mission has simply been "to be with the other".  To just be there, to be present, and to share in the lives of others, regardless of who they are, and what they are doing.
If you are wondering what is your vocation, or what is your mission in life, come join the FMM Sisters on 23 Oct to listen to Sr. Rosalie's sharing for some inspiration!  There will be opportunities to engage other FMM Sisters regarding discernment for religious vocations as well.
Remember that each of us are uniquely loved into being, each with His Spirit within us.  We are all God's work of art, created in Christ Jesus for the good works which God has already designated to make up our way of life. (Eph 2:10).  Have you recognised your way of life?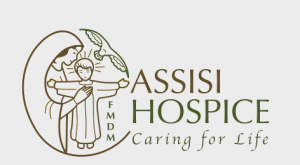 Assisi Fun Day 2021 – E-Edition
7 – 17 October 2021
Shop and eat for good at Assisi Fun Day 2021 – E-Edition as we bring the world to you! Enjoy delicious food and exciting products from Asia, America and Europe, "chop" your virtual passports and have fun with games at www.assisifunday.sg from 7-17 Oct. Every dollar spent will go towards providing care and comfort for patients with terminal illnesses and their families.
For early birds only (by 6 Oct)
Support someone in need through "Give-A-Gift"! Make a $50 donation to give a gift of $50 credit to Assisi Hospice's patient or someone in need for purchase of food and products at www.assisifunday.sg. We hope to bring joy to 400 patients and needy persons through this initiative.
Get $2 credit free for every $20 credit you top up in your E-Wallet for making purchases at www.assisifunday.sg .
Any clarifications, please feel free to email Lisa at lisa.law@assisihospice.org.sg or 98374060.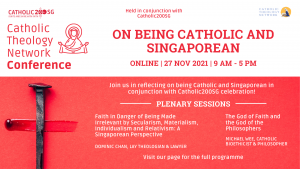 Catholic Theology Network Conference
"On Being Catholic and Singaporean"
27 November 2021
ONLINE
In conjunction with the Catholic200SG celebration this year, Catholic Theology Network will be holding a conference with the theme "On Being Catholic and Singaporean", held on the 27th Nov online. The plenary sessions and the breakout sessions will be presented with the perspective of being Singaporean.
This conference will help parishioners reflect on the interconnectedness of being Catholic and Singaporean, and increase the level of dialogue and understanding of our faith.
Registration : https://tinyurl.com/2336u5h7
Welcoming Home Returning Catholics
14 Sept – 16 Nov 2021
Tuesdays
8pm to 9.30pm
Landings Singapore presents a new 10 week programme which runs from 14th September 2021 through 16th November 2021, every Tuesday from 8pm to 9.30pm. A weekend of virtual retreat takes place near the end of this programme on the 6th and 7th November 2021. All sessions will be held over Zoom. We invite Catholics seeking a reconnection with the faith to register at this link: https://bit.ly/3gFDObF or to scan the QR code in the e-poster.
What to expect
Check-in time and opening prayer
Faith story-telling
Response to story
Fellowship
Reflection on Catholic themes (the themes centre around our relationship with God as well as the Sacraments)
Closing Prayer
For more information on Landings, please email singapore@landings.org.sg or visit www.landings.org.sg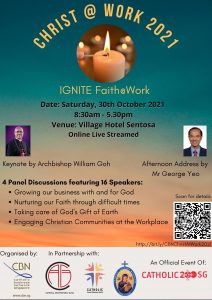 Christ @ Work 2021
Saturday 30th October 2021
8.30am – 5.30pm
Village Hotel Sentosa
Online Live Streamed
The biennial Christ@Work Conference returns with the theme IGNITE Faith@Work, in line with the spirit of the Catholic200SG celebrations. Archbishop William Goh is the Keynote Speaker and ex-Cabinet Minister George Yeo will do the Afternoon Address. There will be 4 Panel Discussions featuring 16 Speakers.
Watch Our Programme Video Here! : https://youtu.be/sLNk2Z_UsXQ
Scan the QR Code or Click the Link below for Programme Brochure: https://bit.ly/CBNChristAtWork2021
Click the link below to Register: https://bit.ly/CBNChristAtWork2021Reg
"Families are not a problem; they are first and foremost an opportunity." Amoris Laetitia by Pope Francis
The Family Conference "Family Life: The Joy of Love" on 5 and 6 November 2021, is organized by Catholic Family Life with a mission to form, empower and restore individuals, couples and families to flourish in the intimate love of God. The fully virtual conference is made up of 3 parts where professionals, teachers, social workers, any volunteers who work alongside families, as well as parents, will find resources that will support them in their journey to help form, empower and restore families.
Part 1 5 Nov 1.30 pm – 6.30 pm Working with Families (for Professionals who work with families)
Part 2 6 Nov 9.00 am – 12.00 pm Anchoring on our Faith (for Parents and families)
Part 3 6 Nov 2.00 pm – 6.00 pm Building Flourishing Families (for Singles, Couples, Parents and families)
Please find out more about the conference and register via https://www.familylife.sg/General_Registration
Para-Counselling Service
By Catholic Family Life
Need someone to journey with you through the stages and challenges of life? Trained Para-Counsellors are available via Zoom.
Please call 66318963 (Mon – Fri 12pm to 4pm)
Email paracounselling-info@familylife.sg or
Visit https://cpc.familylife.sg/ to book your session.
CBN Career Counselling
Dear Friends of CBN,
Our Career Counselling Service  is now available on Zoom Meeting.
In these current times, this can be a valuable service for you, as you can have discussions with a trained Counsellor on Career exploration, Career planning, Career transitions, Workplace challenges, Job Search strategies etc.
God Bless.
Click Here to Register.