Here we are already in June for 2022 — half a year has passed with Pentecost rolling us by. Covid-19 restrictions seem like a distant memory. The past 2 years, bonding with fellow parishioners was limited to zoom calls or small groups of 5 in person. How we all missed the joy of gathering together in person for an activity or fellowship with our common love for the Lord! The restrictions lifted right when Good Friday rolled around and the church had been bustling with different events for everyone, from the desk-rosary making workshop to Popcorn movie appreciation "A Case for Christ" to candle making for catechism activities and the Lenten walk.
Hebrews 10:24-25 "Let us think of ways to motivate one another to acts of love and good works. And let us not neglect our meeting together, as some people do, but encourage one another, especially now that the day of his return is drawing near."  The church's physical gathering is a visible expression of its spiritual nature and is an essential means of grace, equipped to live as God's witness people in the world. If we're to grow spiritually, we need to be readily present and engaged in one another's lives.
Lenten Walk – stretching from 2km, 5km, 10km or 20km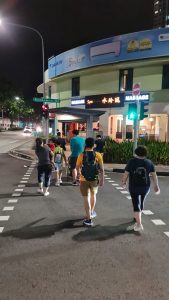 Catechism Candle Making Workshop
Rosary Desk Frame Making Workshop
The 2 ladies below from Holy Trinity was searching online for a rosary making workshop and tumbled across US. They signed up and had a holy time with us not just making the rosary but bonding and growing with Christ.
The activities in person serve as a reminder that friendships can be formed and grow when we come together. Looking forward to what the Church have in store for us in the next few months!
By: Kelly Gabrielle Loh