"This year's Christmas is even weirder than last year's,"
Father Terence began this year's homily at the Christmas midnight Eucharistic Celebration which began at 11pm, "you can see the lyrics flashed on the wall but it says Please Do Not Sing."
He added, "And last year in 2020, we were all celebrating the Christmas Eucharistic Celebration from each of our homes…
Change is constant; and the only constant is Jesus. And just like the song, His Gift Goes on and on. 2021 years later, he lives fully alive with us."
Spotting a few queues to go into church on Christmas Eve, one could definitely feel the joy of the physical connections made with each other along the way up to the worship hall, as Hospitality Hosts greeted us with their warmth and offered a personal connection on that Holy Night.
Check out how all the Christmas Decorations come to life at Life Size Christmas Joy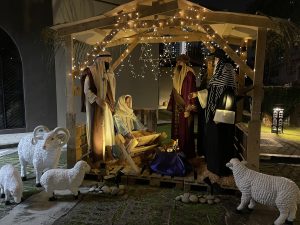 The LIVE Praise and Worship session proclaimed indeed the joy and the message that Christ has Risen, He is aLIVE! (No pun intended) This was indeed welcomed and looked forward to by the parishioners.
One could feel the reverence in the air anticipating the coming of Christ through the Holy Spirit empowering the choir on duty, Ephrem Music Ministry who enlivened our souls, touched our hearts and empowered us with the word of God through the Christmas carols. The carols were presented in a fresh way that was filled with the zest and flavour of beautifully and thoughtfully arranged melodies.
As I videoed the choir singing the Christmas hymns with their hearts, my soul was touched by their beautiful and different vocal ranges that expressed what I could not verbally express. This struck a chord within me that resonated with my heart, my mind and spirit, and allowed me to lift my heart to God our Father as feelings of gratefulness touched my soul!
One could also enjoy the the musical instruments coming together so harmoniously with the symphony of beautiful different voices.
A few who had joined us live on social media were seen sharing on their social media stories how it was the best Christmas ever for them!
"So incredibly blessed to have live singing and end the year off with the best and most meaningful Christmas Mass I've ever had in my life. Praise the Lord for these children who glories Him in the most beautiful way possible!"

– Vanessa Caitlin
God our Father works wonders through space and time, and definitely through media and music. Praise our Lord!
"Honestly it was a very humbling experience. Being able to serve and sing live with the entire ministry after almost 2 years of not singing together was such a blessing! So grateful for the privilege of being able to serve our community through the gifts that God has blessed us with."

– Stephanie Anne, Ephrem Choir
As we left the worship hall with our hearts full of our risen Lord, we were sent off joyfully by Father Terence Pereira into the blessed morning of Christmas…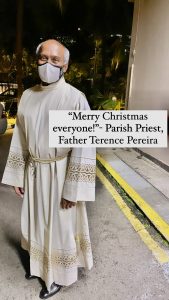 Written by Julianne Danielle Lim